Preparing to Volunteer as a Therapy Dog Team
Instructor Elizabeth M. Simpson, B.Sc., M.Sc., Ph.D.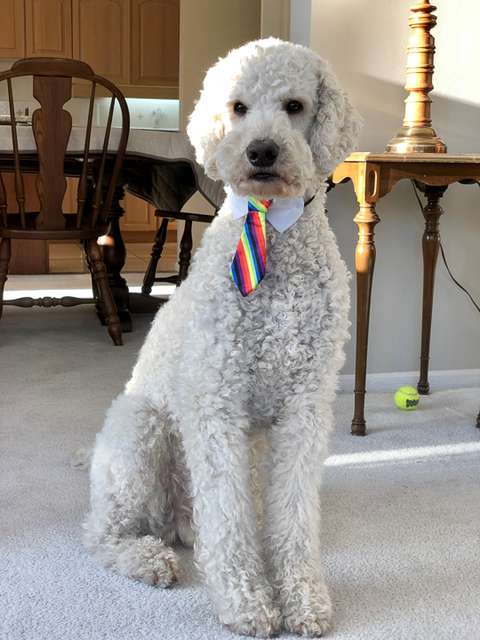 This class emphasizes preparing the handler and dog to work together in a confident relationship, developing the knowledge and skills necessary to be a successful therapy dog team.
Each class involves information on the therapy dog process in the Vancouver area, a "check in" with the handlers regarding successes and challenges, review and practice of a typical therapy dog test item, and instruction on development of a specific skill that will be helpful during therapy dog visitations. Positive reinforcement training techniques including food rewards, praise, cue words, and hand signals will be used to guide the human-dog teams in learning to communicate with each other. All this, in a stress-free environment designed to be fun for you and your dog.
COVID protections – classes are kept small allowing social distancing, each team has a designated working area, all handlers and trainers will wear masks, the room will be cleaned before and after each class.
Length: 6 Weeks | 60 Minutes Per Week
Prerequisites
Dog must be at least 1 year old. Handlers and dogs will be pre-assessed for potential to develop into a therapy dog team before registering. Please email Beth at  to book an assessment.
Please equip your dog with a flat buckle collar, or for dogs
Important Note: One-week notice prior to the date of the first class is required for cancellations or refunds. We are unable to provide refunds once classes have started. Due to the nature of Therapy Dog Team classes we are unable to offer make-up classes for any that you miss. Dates and times of classes are subject to change. Visit our web site for more information and to check space availability in classes. www.dogsmart.ca/.
Upcoming Classes
Preparing to Volunteer as a Therapy Dog Team.
 Fridays at 6:15 PM
DOGSmart Room P