Elizabeth M. Simpson, B.Sc., M.Sc., Ph.D.
Trainer, Therapy Dog Specialist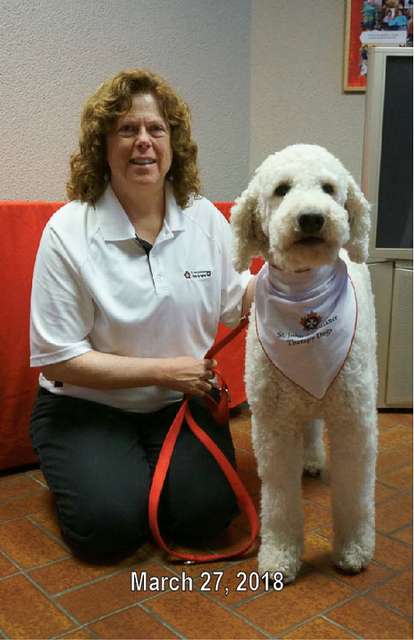 Elizabeth (Beth) teaches, "Preparing to Volunteer as a Therapy Dog Team" and "Canine Good Neighbour  Preparation".
She and her Australian Labradoodle Fudge have been an active therapy-dog team since 2016 with experience volunteering in a variety of settings including a care home, library, and hospital. She is aware of the positive impact of therapy dog programs on both the clients and the volunteers, and wants to help potential new teams make their way to rewarding volunteer positions in the community. Critically, training is aimed at building the skills of the human-dog team using positive reinforcement techniques.
Educational Background:
Dr. Simpson received her B.Sc. from the University of Toronto, and earned her M.Sc. and Ph.D. at the Ontario Cancer Institute. After further training in the USA she returned as a Professor in Medical Genetics at the University of British Columbia (UBC). She held a Canada Research Chair, Tier II, in Genetics & Behaviour, for ten years, the maximum term.
Beth apprenticed at DOGSmart Training, Vancouver, BC, 2020-2021
Notables:
Member, Canadian Association of Professional Dog Trainers Member
Investigator, BC Children's Hospital
Research Theme - Brain, Behaviour & Development
Professor, Department of Medical Genetics, Faculty of Medicine, UBC
Contact: